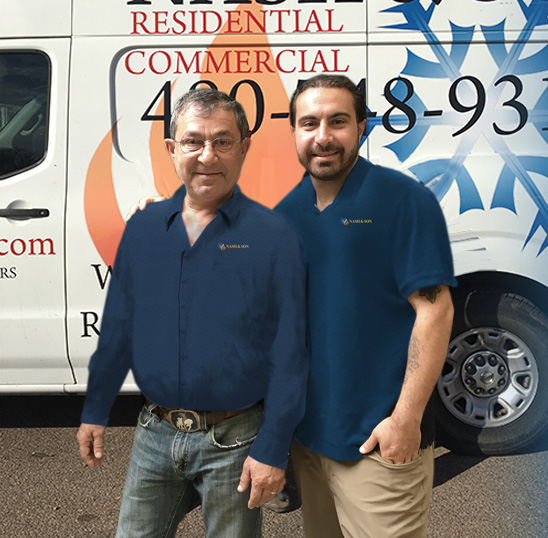 Nash and Son is a truly a family company that proudly serves the Valley of the Sun with the integrity and professionalism you need in an Air Conditioning service company. We are dedicated to being a trusted service provider for all of your electrical, cooling and heating needs.
Our founder, Nash, has over 37 years of experience in the heating and air conditioning industry, having worked on all major brands of HVAC units. Since 1993 he has passed his knowledge and work ethic down to his son Saif to make Nash and Son a second generation, family owned and operated company.
Over the past 37 years, we've learned that when you share your name with the company you operate, what your customers think of your service is what your customers think of you. Our goal is to ensure that when a customer hears the Nash name, they think of Reliability, Integrity and Professionalism.
Nash and Son is dedicated to providing the highest quality service, maximum value and most complete care to our valued customers. We strive to always exceed our customers' expectations.
We treat our customers as we would like to be treated and strive to build lifelong partnerships. With this in mind, we will do our best each and every day by treating every customer like family and respecting their home as if it were our own.
Our Scottsdale based technicians look forward to providing our customers with many years of honest and reliable service.